October 13, 2020 @ 4:29 PM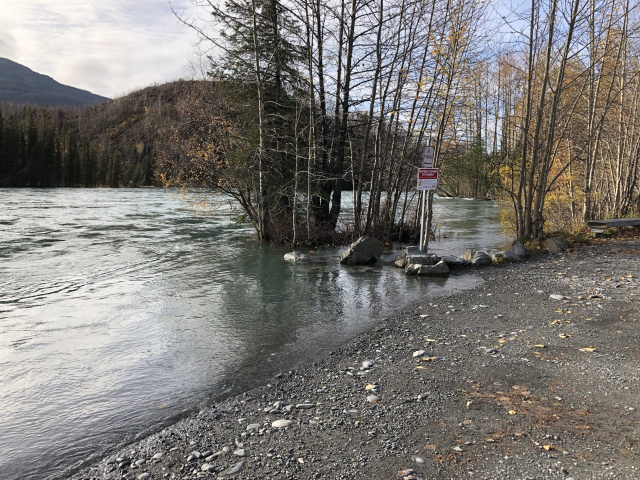 When you open a bottle of fine wine that has been properly matured, you still take that first sip with a bit of caution. It might be pretty good, but patience and resting will allow it to breath and uncover a very special window. When it is just right, swallow it down and don't wait too long. It's not going to get any better.
Ales are much the same, only they mature and diminish much faster. I once brewed a batch of IPA that I was incredibly proud of. When it was properly matured it was perfect and satisfying. I held back a couple bottles to share with a friend. I waited too long.
When rivers rise and fall, interesting things happen as they change. They will often provide windows of peak action on the both sides of the curve. On my recent return to Alaska, both the Upper and Middle Kenai River reaches we planned to fish had reached or exceeded flood stage. Over the years, I have learned that the upper often acts more like an Ale, while the Middle Kenai acts more like wine. We fished the rapid drop on the Upper and got the Middle as it was starting to breath into excellence.
Day One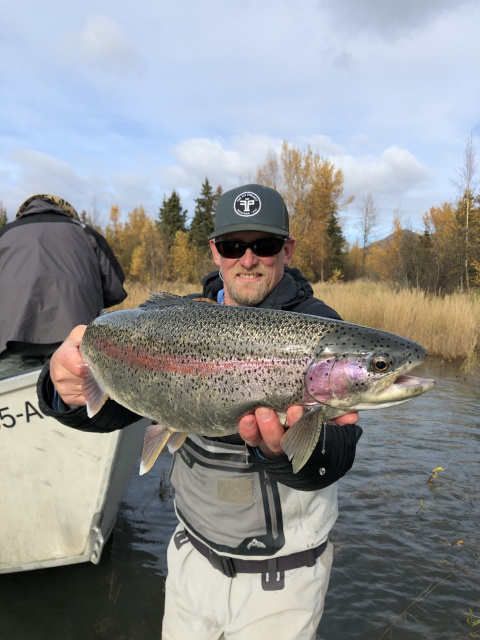 Despite the river being right at flood stage, the water was still surprisingly clear and fish were very catchable.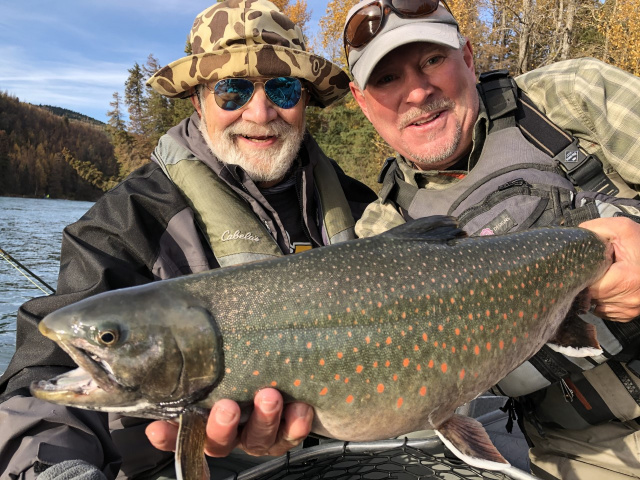 Day 2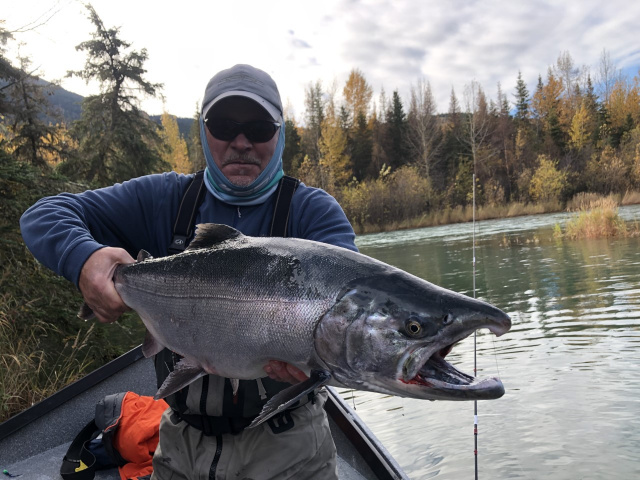 Silver Salmon are conservationists. They like to ride out the high water in side channels and sloughs. We took advantage of this behavior by presenting our flies to large groups of resting fish. We found plenty of wakeful players.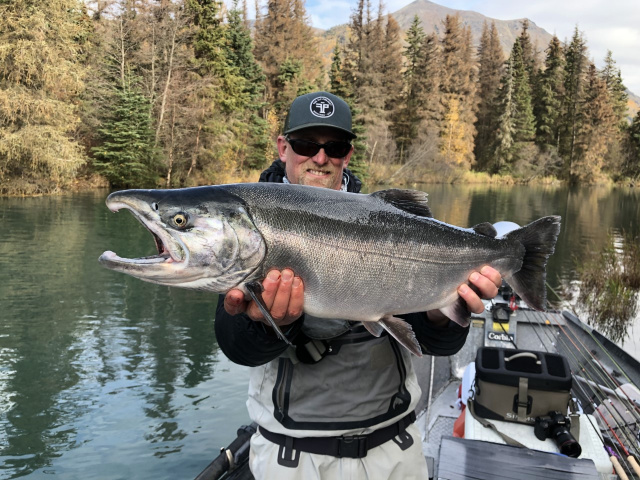 Day 3
Usually, by October, the Upper Kenai is fishing better with flesh flies, sculpins and leech like critters. This years later spawn and high water bounce kept the eggs rolling and that is what the fish wanted.
Day 4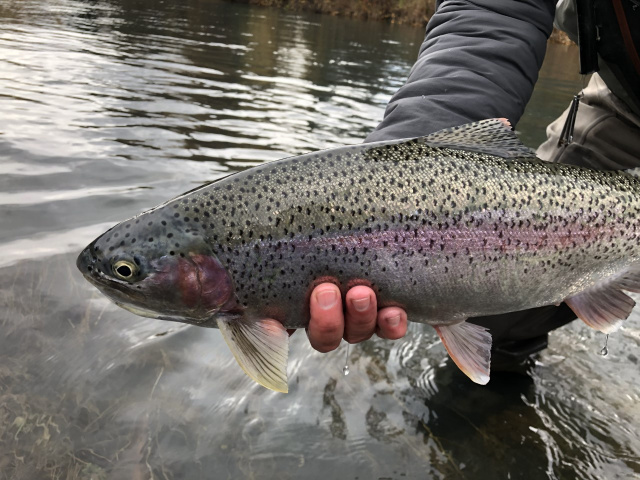 The Upper River was falling fast and the trout were feeding hard. We drank it down.
Day 5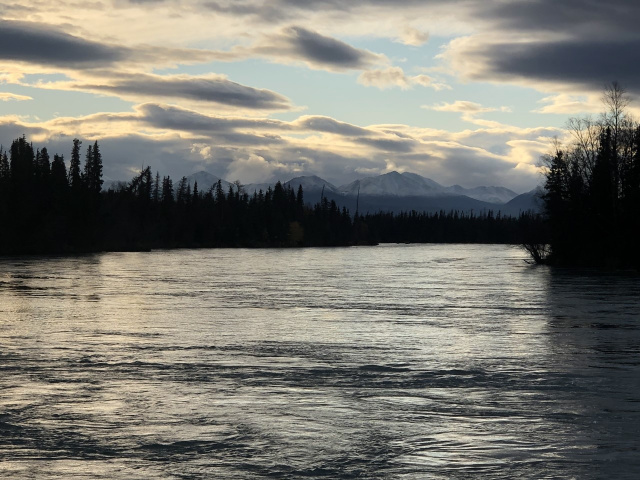 The Middle Kenai was still really high, but shaping up, so we joined our friend Carl for a day of trophy trout hunting. Stacy hit the jackpot with this big rainbow and two chrome steelhead. Fish were scattered, but when we found them, the bite was hot. Lots of multiple hook ups ensued. The Middle was just starting to fish well on the drop. I sure wish I was still there. Its guzzle time on the Middle right now.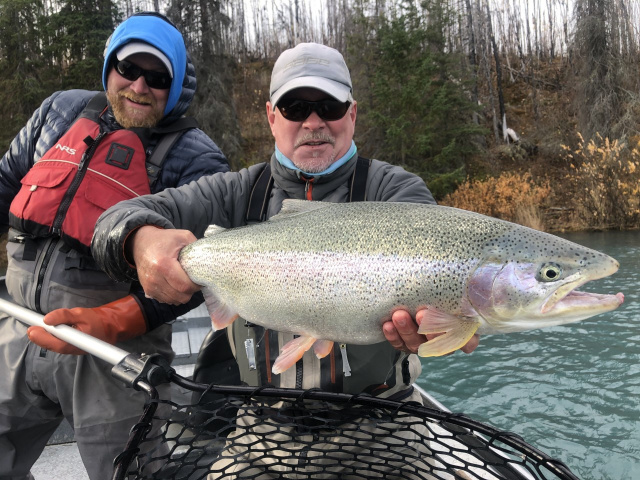 Day 6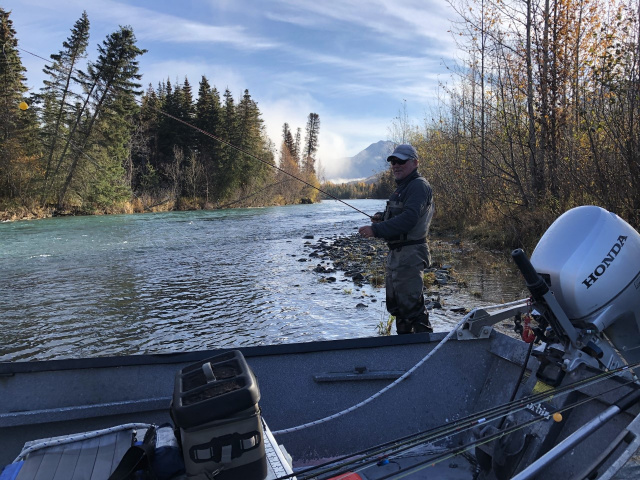 The Upper was almost half the volume on Day 6. It was like a completely different river. The Silvers were back on the move. We found feeding fish in a few choice spots, but many of the runs were getting too skinny to hold fish without spawning salmon to keep their attention. The Upper had peaked.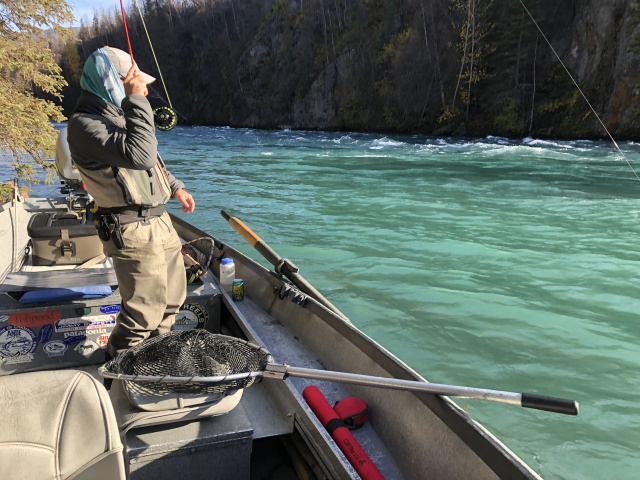 The Kenai Canyon was just shaping back up and becoming fishable again. We found some big carcass piles and finally got a few fish to eat flesh flies.
Down at the lake mouth, there were still a few spawning salmon and a few hot rainbows.
On October 10th, you don't expect a warm sunny and mirror calm ride on Skilak Lake. But you gladly take it.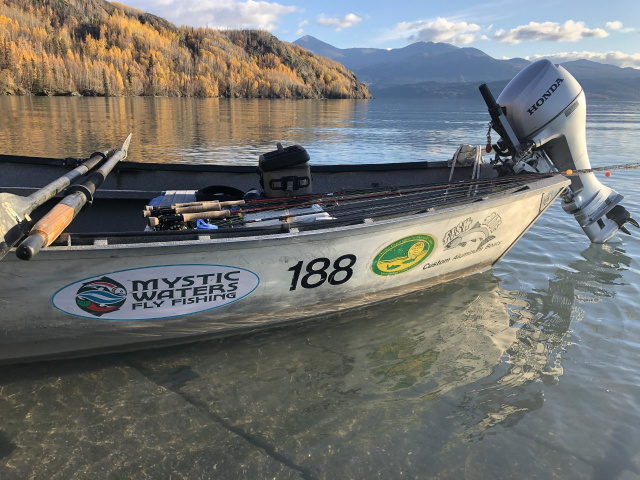 Thanks to all who joined us on the Mystic Waters in 2020. It was not an easy year to travel, but the fishing was exceptional all season long. We hope to welcome more of you back in 2021.