---
UPPER KENAI RIVER in Alaska's "Kenai National Wildlife Refuge"
This is our "FEATURE TRIP" targeting Rainbow Trout, Dolly Varden and often Sockeye or Silver Salmon. Trips meet at a selected location in Cooper Landing. Drifts often include the "KENAI CANYON" (dependant on weather and fishing conditions), the most wild and scenic stretch of the river. Departure times are variable and recommended based on fishing conditions or to accommodate various travel schedules.
$350 Full Day (8-10 hours)
Note: As independent guides, we are flexible and willing to schedule departures to accommodate special needs. We are happy to work with you to facilitate your trip goals. Customer service is our business.
*Our trout Season Begins June 11 and we typically fish to mid October*
---
KENAI RIVER (Middle) Below SKILAK LAKE
Kenai National Wildlife Refuge to Bing's Landing
Flowing from Skilak Lake, the Kenai River slowly picks up speed through some fantastic fish-producing habitat. While technically the Lower River, locals call this section the "Middle". Fly-fishing is not the norm on the Lower Kenai, but fantastic opportunities exist. Exceptionally large rainbow trout are common as well as dollies, sockeye, kings, silvers and pink salmon. We often shift to this stretch of the river during peak fishing periods.
$350 Full Day (8-10 hours)
The Lower Kenai is not drift only. We utilize a motor on our drift boats for easy access into and out of the fishery. A Lower ("Middle") drift can be a great addition to several days on the Upper Kenai.
___________________________________________________________
SWING SPECIAL
The Kenai River is a great place to swing flies with a 2-handed rod for trout, char and salmon. The best times to swing for trout are typically after the early run of sockeye, before the late run begins to spawn and after the late run spawn is over. We are offering the following dates for our Swing Special. July 1-15, August 1-15 and September 25-Oct 10.
$900 per boat (full day) for one or two anglers.
The river section fished will be based on conditions and angler preferences.
---
LOWER KENAI RIVER OR KASILOF RIVER FISHING
Lower Kenai Drifts feature monster Kenai King Salmon in June and July. Feisty Silver Salmon run in August and September. Kasilof River King Salmon trips are an excellent option from late May to mid June. Trips meet at a designated boat landing in the Sterling or Soldotna Area. Times are variable, but early (5:00 am) is generally the norm.
King Salmon trips are typically sought by non-fly-fishers. Fly-fishing the Lower Kenai for salmon including "Huge Kings" is an option. This is big gamefish hunting. Requirements are 10-12wt rods, reels with flawless drags and lots of backing. Anglers also need to be able to cast a mini-tip line 60 feet, or a very heavy shooting head at least 40 feet. Spey Rods are a great choice.
There is no guarantee of success, but the payoff can be BIG! Contact Fred for special details.
$350 Full Day (8-10 hours)
*Kings begin to arrive in fishable numbers in late May.*
---
*Trip prices are per person with a maximum capacity of 4 anglers per boat.*
Anglers with a party size of 2 or 3 wishing for an "Exclusive Option" can book an entire boat for $1200. Many of our returning guests are choosing to go "Exclusive".
Check out our FAQ ( Frequently Asked Questions ) Page for more trip details.
---
WHAT TO WEAR AND CARRY
COMFORT is the key to enjoyment in the outdoors. Occasionally we are blessed with warm sunny days but be prepared, for cool weather. We are located adjacent to several of the world's largest ice fields with the Gulf of Alaska nearby. The weather can be unpredictable. There is plenty of space in the boat to store extra clothing. Trips operate rain or shine so guests need to be prepared with QUALITY RAINGEAR (parka and pants) or WATERPROOF JACKET with WADERS. Bring several WARM LAYERS. A fleece jacket under a rain parka makes a comfortable combo. FISHING LICENSES are required for anglers 16 and older. Please plan to purchase your license ahead of time and be sure it is current. Other recommended items include camera/video camcorder, polarized sunglasses, binoculars and brimmed hat. Also, remember to bring an ample lunch and snacks to keep your body fueled throughout the day.
---
TRIP EMPHASIS: It is always our goal to provide the best fishing trip possible given the conditions of the day. If you have any special desires or goals for your trip, please let us know so we can make proper preparations.
---
INCLUDED: We drift in custom-made, Kenai River Guide Model, "Willie" and "Fish Rite" Drift Boats. There is comfortable seating for four anglers. We feature top-notch fly-fishing tackle including SAGE rods and ROSS reels. On Full Day trips, we bring along a thermos of fresh coffee. Hot water for teas or cocoa is available on request. Lunch is not included unless prearranged. We have a selection of hip boots in men's sizes 6-12, though we recommend fly-fishing guests bring waders if they have them. While we strongly support "catch and release", we will happily fillet any salmon you retain. Vacuum packing, freezing and shipping as well as other custom processing services are available locally.
---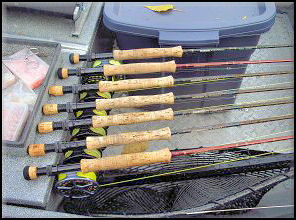 Rainbow Trout, Dolly Varden Char, King Salmon, Sockeye Salmon, Silver Salmon, Pink Salmon, Steelhead