Cooper Landing Boat Launch
Mile 48.4 Sterling Hwy - Landing is directly downstream of the Kenai River Bridge. Take the first access road south/downstream of the bridge to the parking area. Alaska State Parks daily parking fee required.
*Sportsman's Landing / Kenai Russian River Access*
Mile 55 Sterling Hwy - The landing is located approximately 7 miles downstream from the Kenai River bridge / Cooper Landing Boat Launch. The boat landing and parking lot is visible on the riverside of the highway. Turn left of the tollbooth for the boat Landing. The Russian River Ferry is downstream and straight ahead of the tollbooth entrance. Both day and overnight parking is available for a fee.
*Our primary Launch and meeting location for the Upper Kenai*
Jim's Landing
Mile 58 Sterling Hwy – Turn on Skilak Lake Loop Road (East Junction) and take the first left (.1 mile). The access road takes you right to the river. There is a very small signpost for Jim's Landing.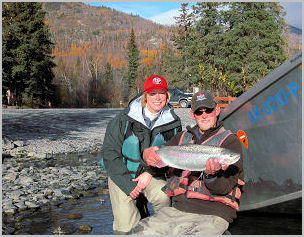 Skilak Road
Skilak Road is a gravel surface loop off the Sterling Hwy in the Kenai National Wildlife Refuge. The East Access is from mile 58 Sterling Hwy and the West Access is from Mile 75.2. Skilak Loop Road provides access to several campgrounds and lakes including the Upper Skilak Landing and the Lower Skilak Landing. Upper Skilak Landing is the take-out point for trips coming down through the Kenai Canyon. Lower Skilak is the put-in for trips heading down the Middle Kenai toward Bing's Landing.

Upper Skilak Boat Landing and Campground
Skilak Lake Loop Road East Junction (Mile 58)
The entrance is 8.4 miles from the East Junction (Cooper Landing Side)
And 8.8 miles from West Junction (Mile 75.2) Sterling Hwy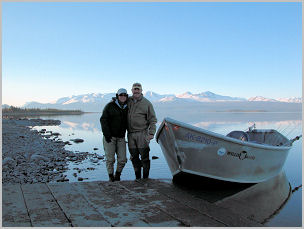 Lower Skilak Boat Landing and Campground
Skilak Lake Loop Road West Junction (Mile 75.2)
The access road is 3.4 miles from the West Junction (Sterling Side)
And 13.6 from the East Junction (mile 58) Sterling Hwy
Bing's Landing State Recreation Site
Bing's is easy to find on the east side of the town of Sterling at Mile 80.3
Follow the gravel road to the parking area and pay daily fee.
Common Floats:
Sportsman's To Jim's
Sportsman's To Upper Skilak
Cooper Landing To Sportsman's
Cooper Landing to Jim's
Lower Skilak To Bing's
Moose River (Izzak Walton) to Swiftwater or Centennial Parks, Soldotna
Call or Text 509-715-9697


Kenai River - Cooper Landing, Alaska
© Mystic Waters Inc., You must obtain written permission to use any content from this website.