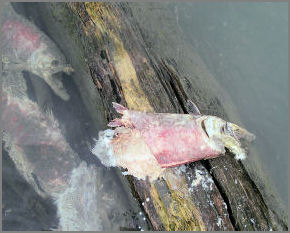 FERTILIZED EGG
Trout will root through spawning redds for fertilzed "eyed eggs" trapped in the gravel.
ALEVIN
Alevin are incomplete little fry still emerging from their egg sack. They are generally available to hungry trout in late winter and early spring when few anglers are present. They wriggle from the gravel and are washed downstream.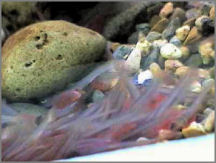 FRY
The Alevin become fry and are taken by trout before the smolt run.


PARR

Salmon Parr are juveniles living the freshwater phase of their life cycles before "smolting" and migrating to the ocean. There are always Parr available for trout somewhere. Juvenile Sockeye tend to live in lakes where they feed on plankton. Kings usually stick to the main river edges and Silvers tend to seek out sloughs and beaver ponds adjacent to the main river.


SMOLT

Smolt are juvenile salmon migrating to the ocean. Their bodies undergo a chemical transformation allowing them to make the transition to salt water. The migrations often begin in April and extend in some river systems through June. While many trout rivers are now closed during the height of the smolt migrations, most open in early June. The best areas to find smolt and trout congregations are where river systems enter and exit lakes.


ANGLERS
Anglers catching salmon often create an early food supply after disposing of filleted salmon bodies into the rivers. Hungry trout quickly attack the bright flesh, guts, and immature eggs.


ADULT SALMON

Trout are not big enough to feed on live adult salmon, but when salmon are migrating and digging their redds, the trout will be right behind them. The salmon often dislodge insect larvae and send sculpin and Parr scurrying about. This presents some opportunistic targets for hungry trout.


FRESH EGGS FROM SPAWNING SALMON
Once the salmon are spawning and eggs begin falling, the trout go nuts.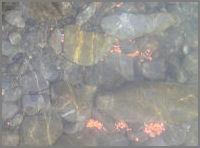 LIVE, DEAD AND DECAYING EGGS

During the middle of the spawn, there are eggs available in a variety of colors from translucent red and orange to opaque milky orange, amber and grayish white. Bright orange fertilized eggs can be dislodged from the gravel by salmon digging out new redds, changes in stream flow or determined trout.

CARCASSES (flesh)

After the salmon die, their bodies break down. Rapids, snags, birds and bears help tear salmon carcasses into bits that trout eagerly slurp up. Large trout will actually tear chunks directly from the carcasses.


MAGGOTS

River levels often drop in the fall. Dead salmon that are beached or pulled ashore by gulls, eagles and bears, become infested with maggots. Occasionally, the maggots get washed in from rains and rising waters to become trout food.
---
FLIES SHOULD REPRESENT IMITATIONS OF THE FOLLOWING
| | | | | | | |
| --- | --- | --- | --- | --- | --- | --- |
| Flies | May | June | July | Aug | Sept | Oct |
| Egg | xxx | xx | xxx | xxxx | xxxx | xxx |
| Flesh | xx | xxx | xxx | x | xx | xxx |
| Alevin | xxx | xx | x | | | |
| Smolt | xxx | xx | x | | | |
| Sculpin | xx | xx | xx | x | x | xx |
| Streamer | xx | xx | xx | x | x | xx |
| Nymph | x | xx | xx | xx | x | xx |
| Dry Fly | | x | xx | x | | |
X - Works occaisionally
XX - Works about half of the time
XXX- Strong Choice
XXXX - The Obvious Choice
Note: By regulation, we can only use one single hook. Two fly rigs are not allowed.
---
Tips On Flesh Flies For Rainbows
---
Tips On How To Fish Sockeye On The Fly
---

Mystic Waters Strike Indicators
Many of my guests have asked about the indicators we often use. The following is all the info you need to make your own. If you are having trouble or would like to buy some from me directly, just let me know.
Yarn: Polypropylene Macrame
I use Maxi-Cord™ Braided Macrame (White)
Size: 6mm / 100yd.
Product Number: 36684-W01
Manufacturer: Maxwell
Use any color you like. I like white, because I feel that the fish do not shy from it as much as from higher visibility colors. It will also pick up some natural color (dirt) as it is used. Cream is also a good non-obtrusive color. Orange and yellow are good for high visibility situations. For heavy nymphs and lead, use two strands of 6mm yarn. For smaller indicators, use one strand of 6mm or two of the 3.5mm size. Trim yarn to appropriate height.
Creation:
Cut two strands of yarn and lay parallel. Pinch together between thumb and forefinger. Wrap the strands together (down the center) tightly with kevlar tying thread. I finish off the last 8 wraps as a whip finish (finger technique). You can also just half hitch it off, although it may unravel eventually.
Note: For large indicators, it works best to use 4 sets of approximately 8 wraps spaced slightly apart. The total width of your thread wraps should be 8-10mm wide.
Next, fold the doubled yarn together to close a loop over the thread wrapped portion. Now hold the yarn tightly together between thumb and forefinger and wrap the sections together. Use approximately 8 wraps followed by two sets of 6 whip finish wraps.
Your indicator is now tied and ready for fluffing. Use a tooth pick or a bodkin to pick apart the yarn fibers from the weave. Then use Velcro to fully separate the yarn fibers and fluff them out.
To use, liberally apply floatant and work through with Velcro. Indicators are attached to the butt section of your leader by simply pinching the line, feeding it through the loop and folding it over the indicator. If the indicator won't stay put, wrap the loop once around the indicator before drawing it tight.
Not all fly fishers like fishing with indicators, but no one can argue their effectiveness. I enjoy the visual aspect of watching them just like a dry fly. Indicators are an important tool in a successful fly anglers arsenal.

In fast water, the general distance from indicator to split shot or weighted fly should be twice the depth of the water.

In slow water, use an indicator to suspend your fly above the bottom or specific structures.

In big water, extend your drift by feeding downstream slack to cover more area. This technique is deadly and is only achievable with an indicator. The trick is to feed slack without drag and still be able to set the hook when a fish takes. Mastering this method is very rewarding and fun.

One deadly trick for extending drifts below your position is to lead your indicator with a very small belly of fly-line (about the size of a basketball). Feed slack smoothly as fast as the current takes your fly-line and do not drag the indicator.

For close in fishing, hold most of the fly line off the water and follow the indicator (at current speed) with your rod tip. This is known as high sticking. Many anglers excel at this technique without use of an indicator. Using an indicator often allows one to use less weight on the leader.
---