September 28, 2018 @ 4:47 PM
When I was a little kid, I was almost killed by a largemouth bass. I was a camper at Camp Warren on Half Moon Lake near Virginia Minnesota. I was 10 years old. This is what I remember.
Before dinner, we generally had some free time. I always used that time to go fishing. I dashed down to the dock at the end of camp. The dock extended out into a bed of reeds. There were sometimes bass in those reeds. I flung out a Hula Popper on my Zebco 202 and proceeded to chug. The biggest bass I'd ever seen exploded on it. It was a struggle. There was lots of plastic drag screeching and fiberglass bending, but somehow the line held and it was time to land my trophy.
There was a row boat tied off to the dock. I was probably not supposed to be in it, but it was the only way to reach the fish. I dropped into the boat, managed to lip the bass and then tried to jump back up to the dock. I failed.
The boat shifted and my jump was short. My chest hit the dock and the bass went bouncing and flopping along. I could not breathe. Neither could the bass. I thought I was dying. We both flopped around on the dock for a while. Eventually he fell into the water and I got my air back. My legs were all cut up and bleeding as I dashed back to the lodge for dinner and to tell my fish story.
The next morning, there was a group of kids gathered by the swimming area. A big bass had floated in and was dead at the edge of the beach. It was my fish. No one would believe it.
It had been awhile since largemouth bass had been a target species for me, but I'd been hearing about these lakes in Mexico where the fish were large and prolific. Last winter, I decided I was ready for a rematch. This time I got pictures.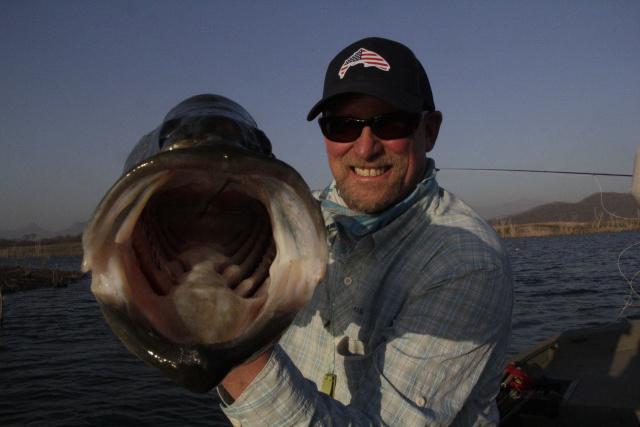 I visited Anglers Inn Lodges at both Lake El Salto and Lake Picachos in 2018 and had a blast. I have decided to go back and focus on Lake Picachos this January. It's a great lake for fly fishing! The fish will be pre-spawn in January and in shallow water. They should eat poppers and streamers all day long. I can't wait. This year's trip is all inclusive, starting with pick up in Mazatlán on January 9. We will transfer to the lodge (about 45 min), settle in (with Margaritas or ice cold Pacifico's), eat fish tacos, rig rods and then head out to fish until dark.
January 10, 11 and 12 will be full days of fishing. We wake up before sunrise with coffee service at our doors. Then we head into breakfasts made to order. By the time the sun is rising, we'll be on the water chugging poppers and hearing the skasploosing sound of attacking bass. Around 11, we will come in for a delicious lunch followed by a siesta. Then it's back to the water to fish until dark. The popper fishing gets really good in the evenings. After a scrumptious dinner and a little socializing and storytelling, it will be easy to fall asleep and get ready to repeat.
Trip cost is $1795. The time to reserve your space is now. I've got a group of 6 going and the remaining spaces will likely go quickly. Contact fred.telleen@north40.com with questions or call the North 40 customer service line at 1-844-466-8440 to join the fun.