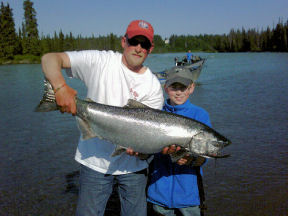 The Kasilof River is the smaller sibling to the mighty Kenai, offering some of the same legendary fish. Spilling from the vast waters of Tustumena Lake, the Kasilof River flows for about 15 miles to Cook Inlet. Like the Kenai, the Kasilof River is glacial and largely fed by snow and ice from the Harding Icefield. Typically more turbid (milky) then the Kenai, this is actually an advantage to anglers as the Kasilof is a shallow river with many fish taken in 3-6' of water. The two rivers are only about 12 miles apart and contain similar fish and likely some genetic mixing.
Some anglers choose the Kasilof over the Kenai for its smaller size and easy accessibility to wade fishing. Others find more success in the smaller spaces of the Kasilof. While it can get very crowded during peak salmon run times, the majority of fishable waters are utilized by drifting rather than powerboats. This is another substantial reason some anglers prefer the Kasilof.
Kings begin running in fishable numbers by mid May. Although the enhancement has been reduced of late, the early run is boosted by a hatchery at Crooked Creek, the Kasilof's major tributary stream. The early fish are smaller, but chrome and very fun to catch. They can be very concentrated near the mouth of Crooked Creek creating a busy target zone for drift boats and bank angling.
The late run fish are largely wild and move quickly upstream toward Tustumena. These are large Kings, resembling Kenai River fish with big males exceeding 60lbs. They run throughout July.
Most of the Kings on the Kasilof are taken on bait due to the glacial waters. They can however be taken on fly, especially in the early run when the river is typically low and less turbid. Dark flies and everglow are good colors to use.
Sockeye Salmon are present by mid June and the run can be quite strong for several weeks. The 20 year average is over 900,000 fish, which is a huge number for a modest sized river.
August is the month for silver salmon, with excellent fishing to be had during the mid month peak.
Steelhead are also present within the Kasilof system with spawners going to Crooked Creek and tributaries to Tustumena Lake. Largely overshadowed by the salmon, steelhead are often the target in April and early May and again in October and November. Egg Sucking Leeches and beads are typically used by fly anglers.